Dear Summit Tamalpais Community,
As we approach the end of October, we celebrate a successful first quarter and look forward to opportunities to build community and make progress toward academic goals during quarter two. Last week we celebrated our Quarterly Timberwolf Awards and the following students were recognized for making significant academic progress and displaying our core characteristics. Congratulations to the following Timberwolves for a strong start to the school year:
7th Grade
Science, Curiosity Award: Donovan Brice
English, Compassion Award: Itzel Castaneda
History, Respect Award: Kamiryn Braxton Grimes
Math, Responsibility Award: Carter Smith Craney
Art, Courage Award: Jaree Felix
Film, Integrity Award: Raquel Miyamoto
8th Grade
Science, Curiosity Award: Henry Gomez Silva
English, Compassion Award: Kanye Abraha
History, Respect Award: Juandavid Gil
Math, Responsibility Award: Emelia Gonzalez Mercado
Social Justice, Integrity Award: Ashley-Jane Tan
Drama, Courage Award: Kynnedy Cannon
In partnership,
Abbie, Aukeem, Natalia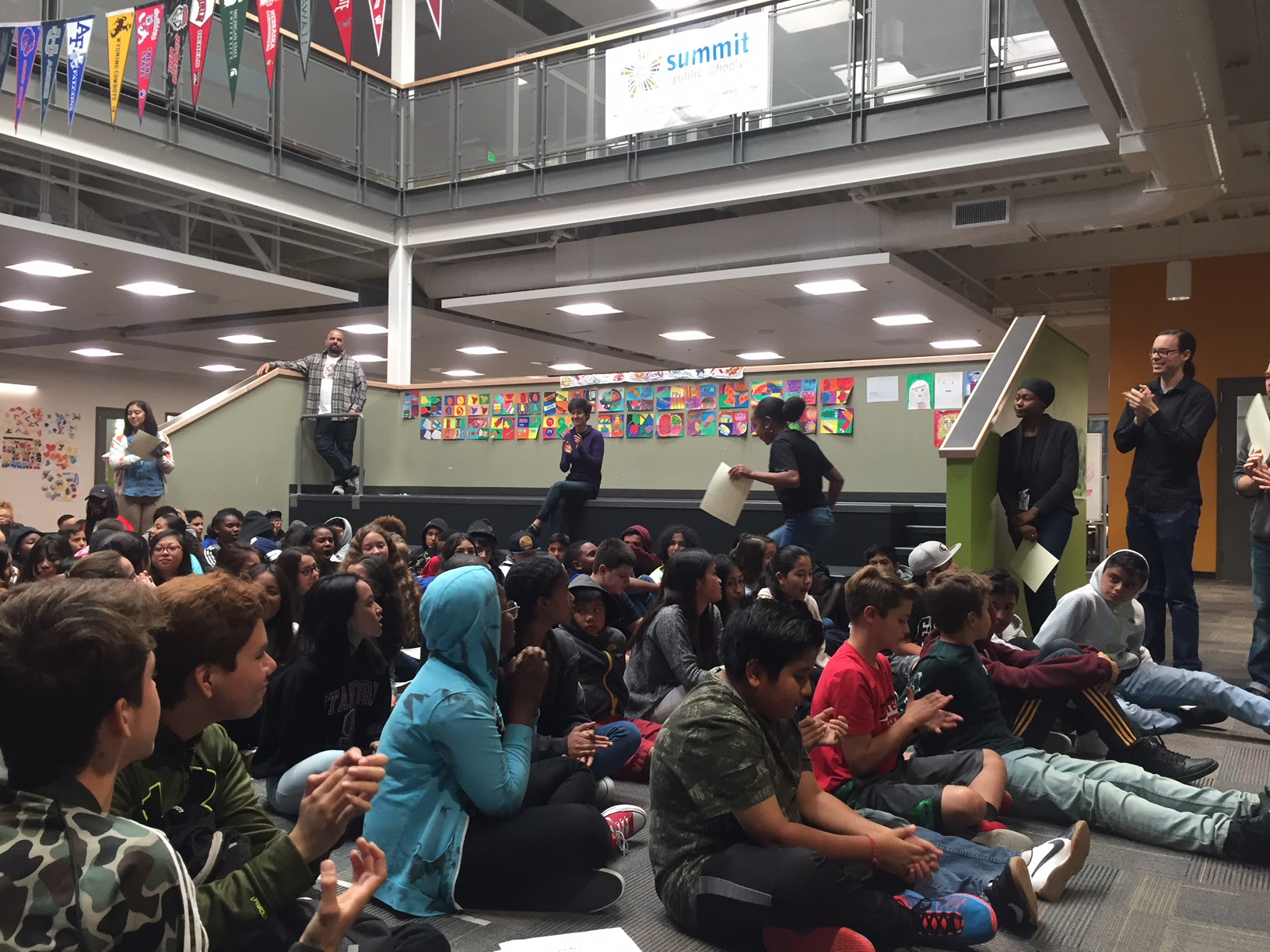 ——
Estimada Comunidad de Summit Tamalpais,
A medida que nos acercamos a fines de octubre, celebramos un primer trimestre exitoso y esperamos oportunidades para construir comunidad y avanzar hacia las metas académicas durante el segundo trimestre. La semana pasada celebramos nuestros Premios Trimestrales Timberwolf y los siguientes estudiantes fueron reconocidos por lograr un progreso académico significativo y mostrar nuestras características principales. Felicitaciones a los siguientes Timberwolves:
7th Grade
Ciencias, Curiosidad: Donovan Brice
Ingles, Compasion: Itzel Castaneda
Historia, Respeto: Kamiryn Braxton Grimes
Matematicas, Responsibilidad: Carter Smith Craney
Arte, Valentia: Jaree Felix
Pelicula, Integridad: Raquel Miyamoto
8th Grade
Ciencias, Curiosidad: Henry Gomez Silva
Ingles, Compasion: Kanye Abraha
Historia, Respeto: Juandavid Gil
Matematicas, Responsibilidad: Emelia Gonzalez Mercado
Justicia Social, Integridad: Ashley-Jane Tan
Drama, Valentia: Kynnedy Cannon
En asociación,
Abbie, Aukeem, Natalia
UPCOMING EVENTS!
See our full events calendar here
– Tam Parent Organization Meeting and Parent Education on Developing Habits of Success in Students: Thursday, October 26th, 6pm
– College Readiness Days: Monday-Tuesday October 30th-31st (during school day)
– Halloween at Tam: Tuesday October 31st (see article below)
– Dia De Los Muertos at Tam: Wednesday November 1st
– Makeup Photo Day: Wednesday, November 8th
—-
¡PRÓXIMOS EVENTOS!
Vea nuestro calendario completo de eventos aquí
– Jueves, 26 de octubre, 6 p.m.: Reunión de la Organización de padres de Tam y Educación para padres sobre el desarrollo de hábitos de éxito en los estudiantes
– Lunes-martes 30 al 31 de octubre: días de preparación para la universidad en Tam (durante el día escolar)
– Martes 31 de octubre: Halloween en Tam (Ver artículo)
– Miércoles 1 de noviembre: Dia De Los Muertos en Tam
– Miércoles, 8 de noviembre: Día de NUEVAS tomas fotográficas
SUPPORTING YOUR CHILD'S ACADEMIC SUCCESS
This is a critical time of year to ensure routines at home are building academic habits of success. Below find key actions related to supporting your child.
Check the platform (summitlearning.org) for current grades. Project grades are updated within two weeks of submission and include feedback from the teacher on any necessary revisions to improve grades.

We will be calling families of any child with an incomplete to ensure you are checking in regularly, following up on any missing projects, and to ensure your child is staying for after school supports

For any child with one or more incomplete, they will be required to attend focused PLT or Office Hours during after school time starting next week. These students will also not be eligible for our Halloween Festival

---
COLLEGE READINESS DAYS AT TAM
Monday October 30th and Tuesday October 31st we will hold College Readiness Days which is an opportunity for our students to build mindsets and skills to be successful in college and career.
The event will include personal stories of persistence from our teachers as they reflect on the college and career process.
We will also use the days to have all students take a practice SBAC / CAASPP test so that they can build the mindset and muscle of a high stakes test.
The practice tests will also give us information regarding strengths and growth areas for our students so that we can support their development of literacy and numeracy this year.
---
HALLOWEEN AT TAM
We invite students to celebrate Halloween by wearing costumes that are school-appropriate and in line with our dress philosophy. To ensure the safety of all students, we do not allow masks or fake weapons of any kind.
For the last block of the day, any student who is passing all classes will be invited to Halloween festivities. Other students with incompletes will be assigned to mentor PLT to get caught up on course work.
---
DIA DE LOS MUERTOS AT TAM – WEDNESDAY NOV 1ST
The Tam Dia De Los Muertos is a celebration of our life and the loved ones who have passed on. Though this custom is traditionally celebrated in Mexico and parts of Latin America, the Tam Dia De Los Muertos is a celebration designed for everyone. We hope you join us for food, dancing, and face painting festivities. Most importantly, we hope you bring pictures of your loved ones for our community altar.
---
APOYANDO A SU HIJO ACADÉMICAMENTE
Esta es una época crítica del año para garantizar que las rutinas en el hogar desarrollen hábitos académicos de éxito. A continuación encontrará las acciones claves relacionadas con el apoyo a su hijo.
-Verifique la plataforma (summitlearning.org) para las calificaciones actuales. Las calificaciones del proyecto se actualizan dentro de las dos semanas posteriores a la presentación.
-Estaremos llamando a las familias de cualquier niño con un estado incompleto para asegurarnos de que esté registrándose regularmente y dando seguimiento a cualquier proyecto perdido.
-Para cualquier niño con más de un alumno con un incompleto, se les requerirá que asistan a PLT enfocado u horario de oficina durante el tiempo después de la escuela a partir de la próxima semana.
-También estamos requiriendo que cualquier estudiante con un incompleto
---
DÍAS DE PREPARACIÓN PARA LA UNIVERSIDAD EN TAM
El lunes 30 de octubre y el martes 31 de octubre tendremos días de preparación para la universidad, que es una oportunidad para que nuestros estudiantes creen una mentalidad y habilidades para tener éxito en la universidad y en la carrera. El evento incluirá historias personales de persistencia de nuestros maestros mientras reflexionan sobre la universidad y el proceso profesional. También utilizaremos los días para que todos los alumnos realicen una prueba de práctica SBAC / CAASPP para que puedan desarrollar la mentalidad y el músculo de una prueba de alto riesgo. Las pruebas de práctica también nos darán información sobre las fortalezas y las áreas de crecimiento de nuestros estudiantes para que podamos apoyar su desarrollo de lectoescritura y aritmética este año.
---
HALLOWEEN EN TAM
Invitamos a los estudiantes a celebrar Halloween usando un vestuario que sea apropiado para la escuela y en línea con nuestra filosofía de vestimenta. Para garantizar la seguridad de todos los estudiantes, no permitimos máscaras ni armas falsas de ningún tipo.
En la última parte del día, cualquier estudiante que apruebe todas las clases será invitado a las festividades de Halloween. Otros estudiantes con incompletos serán asignados a PLT con su mentor para terminar trabajo del curso.

---
DIA DE LOS MUERTOS – 1 DE NOVIEMBRE
 El Tam Dia De Los Muertos es una celebración de nuestra vida y de los seres queridos
que han fallecido. Aunque esta costumbre se celebra tradicionalmente en México y partes de América Latina, el Tam Dia De Los Muertos es una celebración diseñada para todos. Esperamos que se una a nosotros para la comida, el baile y la pintada de cara. Pero lo más importante, esperamos que traiga imágenes de su seres queridos para nuestro altar comunitario.

---