(Por favor, vea debajo los mensajes en Español)
Dear Timberwolf Family,
We are aware that some members of our community are planning to participate in National School Walkout day this Wednesday, March 14. The national walkout is planned to take place from 10:00am- 10:17am in honor of the 17 victims of the shooting incident that happened at Marjory Stoneman Douglas High School in Parkland, Florida on February 14, 2018.
Summit Public Schools and Summit Tamalpais support our students and their right to have their voices heard. We will support students who wish to participate in the walkout in the following way(s):
– Provide supervision on campus and on the sidewalk in front of our school for any students respectfully participating in the demonstration from 10:00-10:17
– We will continue providing instruction during this time for any students not participating
– Any parents who DO NOT wish that their child participate should notify Abbie/Aukeem and your child's mentor before Wednesday
While we respect the right of students to participate in this movement, we want to make sure that our families also recognize that it is a school day and that we have a commitment to the physical and emotional safety of all. Our expectation is that all students arrive at school on time and return to school after the walkout. If your family has alternative plans for your student, please make sure that you follow normal school procedures and have a plan for signing them out and signing them back in, if needed. Students who choose to leave campus without permission will be considered to have skipped school. If you have any questions, please reach out to Abbie or Aukeem.
We understand that national tragedies like the one in Florida can take an emotional toll on our students. If you notice a sudden change in your child's behavior or health, please contact the school to seek assistance. Students at Summit Tamalpais meet regularly with their mentor group and those groups are talking about what happened in Florida. We know similar conversations are happening in your homes and share some helpful resources for talking about a tragedy with children.
Some families have asked about our approach to school safety at Summit Tam. As a reminder, we have a set of emergency procedures in place and regularly review them to ensure we're following best practices. Our school's safety protocols include:
Evacuation and emergency drills conducted throughout the year
Yearly staff training on emergency procedures, including a comprehensive site safety plan
A campus visitor policy requiring photo I.D. and visitor pass
Background checks for staff and volunteers
Every classroom equipped with emergency supply kits
We appreciate your support. Please reach out if you have any questions or would like to discuss further.
In partnership,
Abbie & Aukeem
---
Estimadas Familias,
El próximo miércoles 14 de marzo es el día de la huelga nacional de las escuelas y somos conscientes de que un grupo de estudiantes de nuestra comunidad está interesado en participar. La huelga nacional está programada para llevarse a cabo de 10:00 a.m. a 10:17 a.m. en honor a las 17 víctimas del tiroteo ocurrido en Marjory Stoneman Douglas High School en Parkland, Florida, el 14 de febrero de 2018.
Las Escuelas Públicas de Summit y Tamalpais apoyan a nuestros estudiantes y su derecho a que se escuchen sus voces. Nuestra escuela planea apoyar a los estudiantes que deseen participar en la huelga de la siguiente manera (s):
Proporcionar supervisión en el campo escolar y en la acera frente a nuestra escuela para que los estudiantes participen respetuosamente en la demostración de 10: 00-10: 17
Continuaremos brindando instrucción durante este tiempo para cualquier estudiante que no participe
Cualquier padre que NO desea que su hijo participe debe notificar a Abbie / Aukeem y al mentor de su hijo antes del miércoles
Aunque respetamos el derecho de los estudiantes a participar en este movimiento, queremos asegurarnos de que nuestras familias también reconozcan que es día de escuela y que tenemos un compromiso con la seguridad física y emocional de todos. Nuestra expectativa es que todos los estudiantes lleguen a la escuela a tiempo y regresen a la escuela después de la huelga. Si su familia tiene planes alternativos para su estudiante, asegúrese de seguir los procedimientos normales de la escuela y tener un plan para sacarlos y traerlos nuevamente, si es necesario. Se considerará que los estudiantes que elijan no participar en actividades escolares o que elijan abandonar el campo escolar sin permiso de los padres no serán excusados. Si tiene alguna pregunta, comuníquese con Ms. Ridenour.
Entendemos que las tragedias nacionales como la de Florida pueden afectar emocionalmente a nuestros estudiantes. Si nota un cambio repentino en el comportamiento o la salud de su hijo, comuníquese con la escuela para buscar ayuda. Los estudiantes de Summit Tamalpais se reúnen regularmente con su grupo mentor y esos grupos están hablando de lo que sucedió en Florida. Sabemos que están teniendo conversaciones similares en sus hogares y compartimos algunos recursos útiles para hablar sobre una tragedia con los niños.
A la luz de los acontecimientos de las últimas semanas, algunos de ustedes han hecho preguntas sobre cómo hablar sobre lo que sucedió y también sobre las prácticas de seguridad en nuestra escuela.
Contamos con un conjunto de procedimientos de emergencia y los revisamos regularmente para garantizar que sigamos las mejores prácticas. Los protocolos de seguridad de nuestra escuela incluyen:
Simulacros de evacuación y emergencia llevados a cabo durante todo el año
Capacitación anual del personal en procedimientos de emergencia, que incluye un plan integral de seguridad del campo escolar
Una póliza de visitante del campo escolar que requiera identificación y pase de visitante
Verificaciones de antecedentes para el personal y los voluntarios
Cada aula equipada con equipos de suministros de emergencia
Comunícate si tienes alguna pregunta o si deseas hablar sobre.
Atentamente,
Abbie y Aukeem
---
UPCOMING EVENTS!
See our full events calendar here
– March 14-15 No School: Faculty Professional Development and Spring Family Mentor meetings
– March 29th (Thursday) – Class College Field Trip
Here is a link to a survey to get involved any of the events. The correct teacher will contact you based on what you sign up for: tinyurl.com/tamparentsignup
– March 30th (Friday) – No class, Cesar Chavez Day
– April 2nd-6th – No classes held, Spring Break
---
¡PRÓXIMOS EVENTOS!
Vea nuestro calendario completo de eventos aquí
– 14 al 15 de marzo No hay clases: desarrollo profesional de la facultad y reuniones de mentores de la familia de primavera
– 29 de marzo (jueves) – Excursión de clase de la universidad
– Aquí hay un enlace a una encuesta para participar. El profesor correcto se pondrá en contacto contigo en función de lo que te registraste: tinyurl.com/tamparentsignup
– 30 de marzo (Viernes) – No hay clases, día de cesar chavez
– 2-6 de Abril – No hay clases, vacaciones de primavera
---
BLACK HISTORY MONTH CELEBRATION NEEDS YOUR HELP!
Many thanks to the families who joined us for Black Heritage Month Celebration! Our student leaders presented to mentor groups on Nubian Queens, Black Scientists and Inventors, Black Kingdoms of West Africa, Historically Black Colleges and Universities and the Black Panther Party in the Bay Area. Our students also performed dance routines and spoken word poems. Grio B, a local educator and rapper, performed original songs highlighting themes from the student presentations. Our entire community enjoyed homemade desserts contributed by our families. Shout out to Ms. Joi and Ms. Williams for their teacher leadership in organizing the event!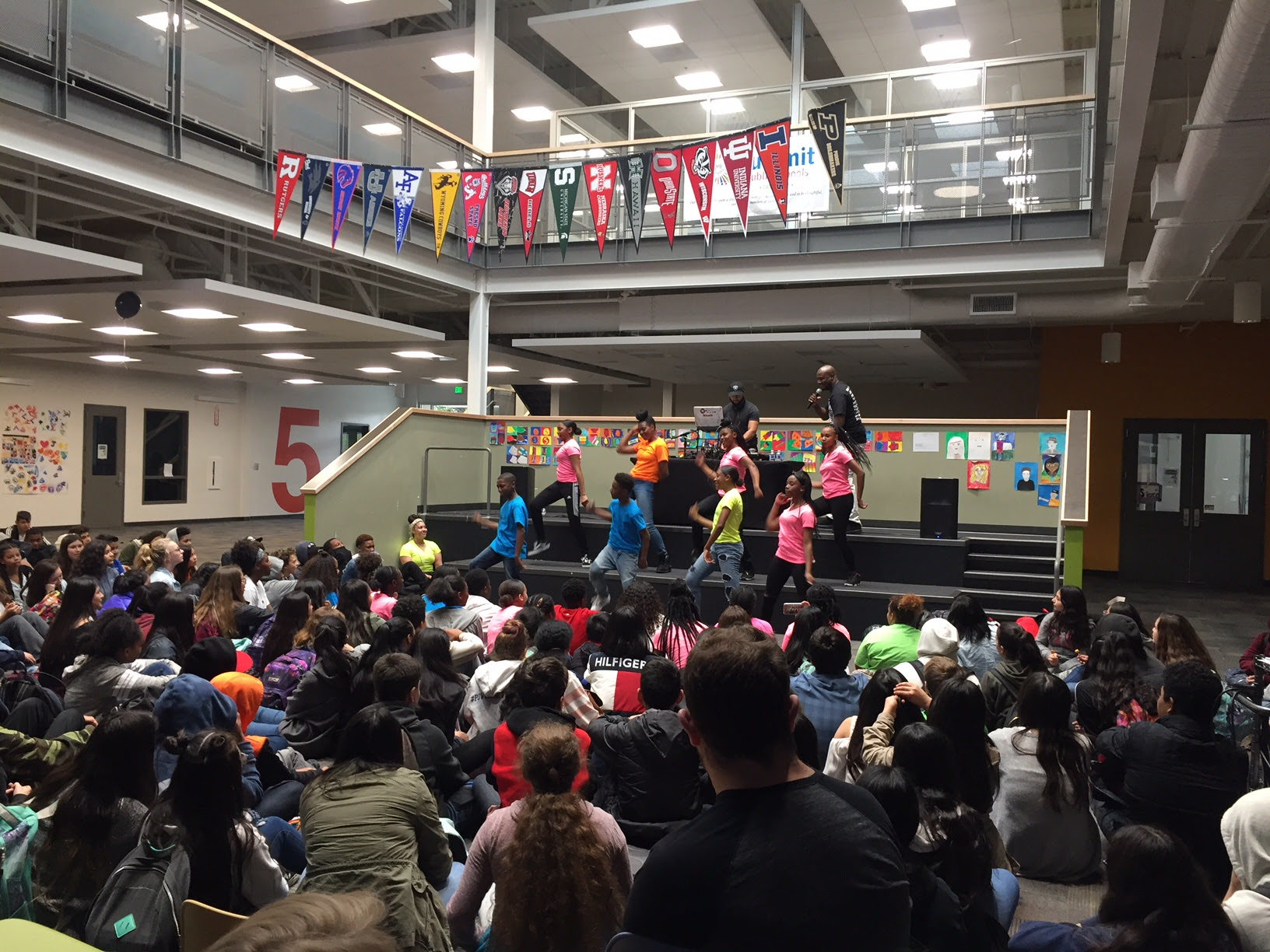 ---
SPRING PLP MEETINGS
Just a reminder that we have no school this coming Thursday and Friday for both faculty professional development and spring mentor/family meetings. These meetings are required for students significantly behind in their academics however we are saving meeting slots for any family who would like to request a mentor meeting during this time. Please reach out to your child's mentor if you would like to set up a meeting.
---
WE NEED STUDY TRIP DRIVERS!!
Thanks to those parents who have already signed up to join us for study trip college tours on March 29th. We are still looking for drivers for both 7th and 8th grade. If we don't get enough drivers the trips will be cancelled. We are in need of rides from 8am-3pm.
---
PARENT ORGANIZATION MEETING WRAP-UP
Many thanks to the parents who joined to engage in our annual LCAP review and provided feedback on our programming and student supports for next school year. At the meeting we made the following asks for parent help. Please visit tinyurl.com/tamparentssignup to sign up to help with any of these upcoming opportunities!
Study Trip Drivers and Chaperones needed for college tours on March 29th
8th grade promotion and reception planning committee
New student enrollment: volunteer to make phone calls to families admitted in our lottery and making a decision about whether to choose Summit Tam for their child this fall. Provide a parent perspective on their questions and welcome them!
Teacher appreciation week: May 7th. Volunteer to bring food or beverages for one of the days
---
BLACK HERITAGE MONTH – ¡GRACIAS, FAMILIAS!
¡Muchas gracias a las familias que se unieron a nosotros para la celebración del Mes de la Herencia Afroamericana! Nuestros líderes estudiantiles presentaron a los grupos de mentores sobrea Las Reinas Nubias, Cientificos e Inventors negros, Los reinos negros del oeste de Africa, Los colegios y Universidades historicamente negras y sobre el partido de las Panteras Negras en el área de la bahía. Nuestros estudiantes también realizaron rutinas de baile y poemas de palabra hablada. Grio B, un educador local y rapero, interpretó canciones originales que resaltan temas de las presentaciones de los estudiantes. Toda nuestra comunidad disfrutó de postres caseros aportados por nuestras familias. ¡Felicidades a la Sra. Joi y a la Sra. Williams por su liderazgo docente al organizar el evento!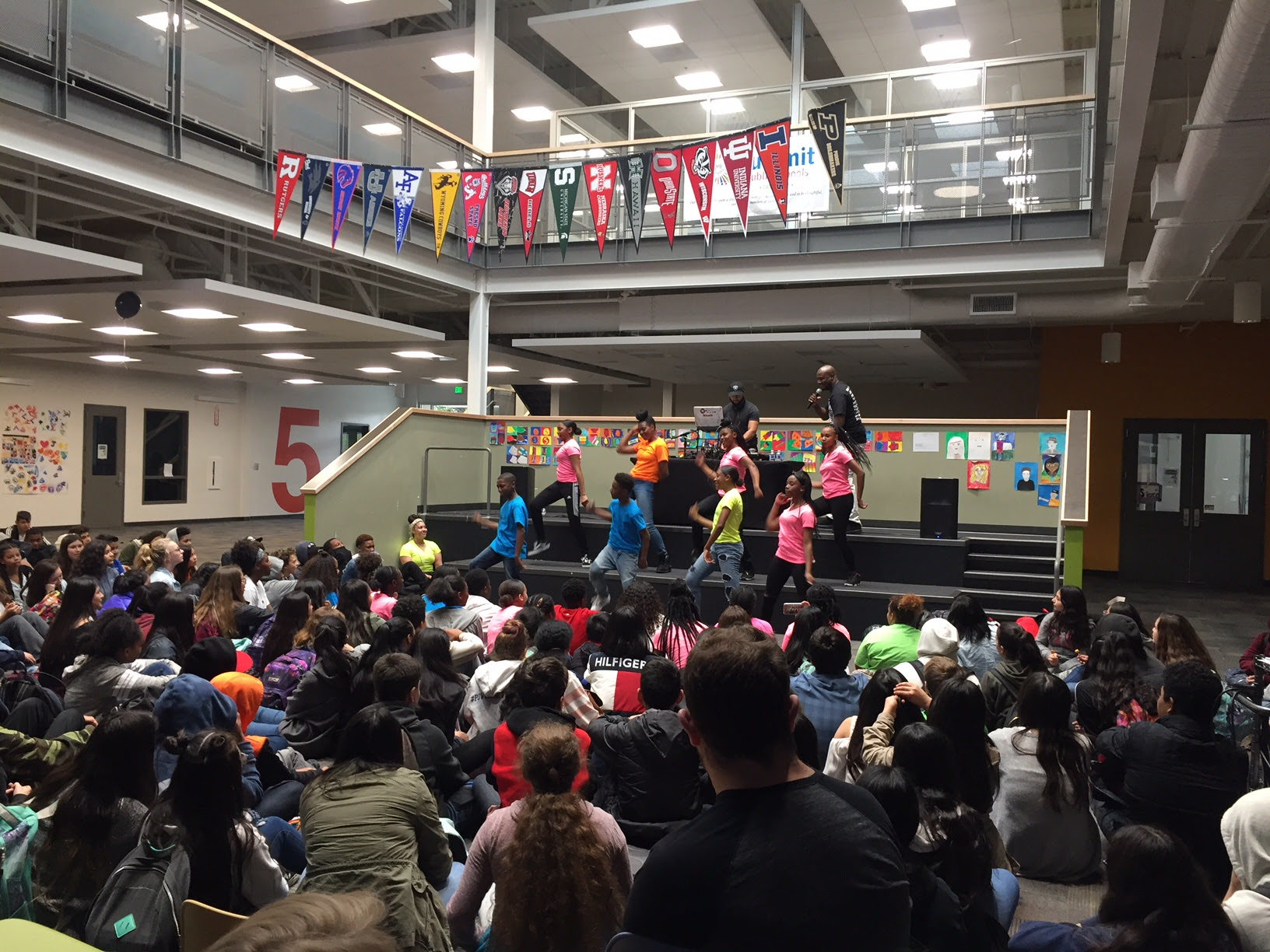 ---
¡REUNIONES DE PRIMAVERA DE PLP!
Solo un recordatorio de que no tenemos escuela este jueves y viernes por el desarrollo profesional de la facultad y las reuniones de mentores / familias de primavera. Estas reuniones son obligatorias para los estudiantes que están muy retrasados ​​en sus estudios académicos. Sin embargo, estamos ahorrando espacios para reuniones para cualquier familia que desee solicitar una reunión de mentores durante este tiempo. Comuníquese con el mentor de su hijo si desea organizar una reunión.
---
¡NECESITAMOS CONDUCTORES DE VIAJE DE ESTUDIO!
Gracias a los padres que ya se inscribieron para unirse a nosotros para las excursiones universitarias de estudio el 29 de marzo. Todavía estamos buscando conductores para el 7º y 8º grado. Si no tenemos suficientes conductores, los viajes serán cancelados. Necesitamos conductores y automobiles de 8 a.m. a 3 p.m.
---
CONCLUSIÓN DE LA REUNIÓN DE LA ORGANIZACIÓN DE PADRES
Muchas gracias a los padres que se unieron para participar en nuestra revisión anual LCAP y proporcionaron comentarios sobre nuestra programación y apoyo estudiantil para el próximo año escolar. En la reunión que hicimos, se pidieron las siguientes ayudas: Haga Clic Aqui para inscribirse y ayudar con cualquiera de estas próximas oportunidades!
Conductores de viaje de estudio y chaperones necesarios para las visitas a la universidad el 29 de marzo
Comité de planificación de promoción y recepción de octavo grado (ayuda para planear y coordinar la promocion de Octavo Grado)
Nueva inscripción de estudiantes: voluntarios para hacer llamadas telefónicas a las familias admitidas en nuestra lotería para que puedan tomar una decisión sobre si elegir Summit Tam para su hijo este otoño.
Semana de apreciación del maestro: 7 de mayo. Ofrézcase como voluntario para traer comida o bebidas durante uno de los días.